Patch 2.11 introduces the following:
Characters
Edit
Other changes
Edit
Challenge repeat of Martian Manhunter/Blackest Night
The backgrounds have been swapped with pics from the movie, as a way to promote the movie by the developers.
Daily log-in bonus now have increased with better prizes! Now you can earn Augmentations, shards, Energy, and also a Gold character as well.
The characters faced in the tutorial were changed to The Joker/Suicide Squad, Harley Quinn/Suicide Squad, and Deadshot/Suicide Squad.
Challenge Credits were removed from the game. Thus, you don't have to either buy the Small/Large Challenge Bundle or play matches in Standard Battle in order to obtain them anymore.
Newly released Challenge characters can already be seen in Survivor Mode! Including Aquaman/Injustice 2, Solomon Grundy/Earth 2, Superman/Injustice 2 and even Doomsday/Blackest Night and all the new Suicide Squad characters as well.
The Standard difficulty for Challenge Mode are now "shorter" and easier as well, with only 9 matches for each tier, along with no specific character requirements. However, after completing the Standard difficulty, and moving on to Expert difficulty, then it will be a normal Challenge Mode, with the same requirements as previously-held. However, this only applied during the challenges (and repeats as well) for the Suicide Squad characters. After their challenge ended, and when Raven/Teen Titans's challenge comes, Challenge Mode was returned to what it was.
The prizes for Challenge Mode also increased: after completing 2 challenge battles you will receive a Silver Booster Pack; for completing 3 challenge battles you will receive a Gear Locker; for completing 4 challenge battles you will receive a Gold Booster Pack. But same as above, this only happened during the challenges for the Suicide Squad characters, and became was brought back to what it used to be.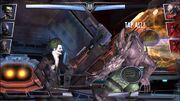 The tap buttons (3x one) has been changed from a circle shape into an oval shape instead.