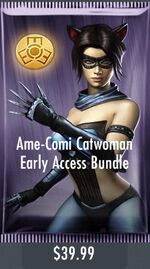 The 
Ame-Comi Catwoman Early Access Bundle 
costs $39.99 and grants early access to a copy of
Catwoman/Ame-Comi
 and all of her
support
and
Gear
cards plus 400,000
Power Credits
.
It's the second most expensive Early Access Pack in the store, after the Worst Heroes Ever Bundle. Upon released, it was named "Ame-Comi Catwoman Pack" just like the other Early Access Packs, but it was "glitched", thus players whom purchased it couldn't buy it (though they didn't "lose" their money either). Later on they patched it, while also changed the price of it, along with adding more Power Credits in it.

Additionally, it's the second pack to contains Power Credits in it (The Flash Starter Pack being the first), while also being the pack that gives out the most Power Credits.

It's the first Early Access Pack to:

Be named Early Access Bundle, as outside of the traditional way of just the character's name and the word "Pack" afterwards.
Have a Power Credits symbol on it.
Costs TWICE (2x) the regular price of other Early Access Pack.

Interestingly enough, once her challenge starts, this pack was "gone", and was replaced by the Ame-Comi Catwoman Pack (and later on it was added back in the store again); though the most "reasonable" explanation as to why her "Pack"  re-made a debut and came back into the store is because her Early Access costs too much, complaints were made and thus this pack was added in AGAIN, the regular way.