The
Ame-Comi Catwoman Pack
grants early access to a
Catwoman/Ame-Comi
, along with all her
support cards
and her own
gear
card, Steel Claws.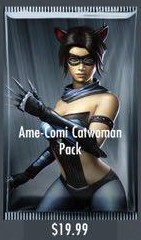 Interestingly enough, this pack came back into the store after the Ame-Comi Catwoman Early Access Bundle was added, due to this pack at first won't work/glitched (thus players couldn't get her if bought this pack, but they won't lose money either). Though the most "reasonable" explanation as to why this pack "came back" into the store might be that since her Early Access costs too much, complaints were made and thus this pack was added in AGAIN, once her challenge started.
Ad blocker interference detected!
Wikia is a free-to-use site that makes money from advertising. We have a modified experience for viewers using ad blockers

Wikia is not accessible if you've made further modifications. Remove the custom ad blocker rule(s) and the page will load as expected.