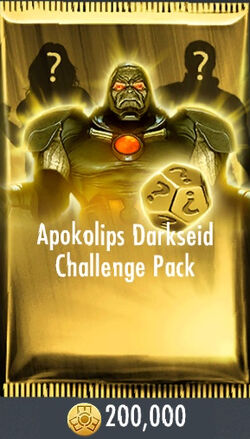 The Apokolips Darkseid Challenge Pack is a pack that was introduced in the 2.13 update and can be seen as a alternative to the Challenge Booster Pack. After the 2.14 update, it now contains most Challenge Mode characters BEFORE the 2.14 update, with a higher cost than the "previous" version, at 200,000 Power Credits and offers a slightly increased chance for Darkseid/Apokolips! It also contains two random Support Cards or Upgrades.
For a list of confirmed characters, see the Updated Challenge Booster Packs page.
Ad blocker interference detected!
Wikia is a free-to-use site that makes money from advertising. We have a modified experience for viewers using ad blockers

Wikia is not accessible if you've made further modifications. Remove the custom ad blocker rule(s) and the page will load as expected.