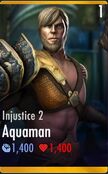 Atlantean Tactics: When Aquaman does any SP he rinses any DOT off him and puts it on his opponent with the effect doubled.
Injustice 2 Aquaman is not a card to be overlooked; with a very high damage and highest total base stat in the game (tied with Batman/Flashpoint, Superman/Injustice 2, and Batman/Gaslight). He boasts a cunning passive that can reverse the tide against DOT specialists.
Strategy
When Aquaman uses a special, he removes all damage over time effects on himself and applies it to his opponent with the damage doubled. This is done at the beginning of his special.
Not many teams encountered are built around DOT, so Aquaman's passive might prove situational. Aquaman will effectively return it with the doubling effect of his passive and the multiplier effect of his bleed if he uses his s1.
His tremendously high stats and/or his own DOT with the bleed on his s1 may thus be what he should primarily be geared/partnered in mind with. An s1 build lets him fire off specials more, with bleed damage and 20% increased incoming damage debuff coming at the cost of half the power of the special; whenever you do want to take advantage of his passive, the s1 would be the special of choice.
When inflicting or reversing DOT is not what you care to do, Aquaman's s2 invests his power on the front end.
Besides countering the Ibistick, Aquaman can also effectively use it. It increases his power generation, puts a DOT on the opponent that scales to their health and that the bleed of his s1 multiplies, and increases the power of both of his specials, this boost being well-paired with his s2.
Damage over time dealing a % of the target's maximum health (e.g. The Ibistick's burn, Darkseid/Apokolips's bleed) will continue to deal damage according to Aquaman's max health when reversed.
Effects that are always present when tagged in (LexCorp Set's 3-piece effect, Solomon Grundy/Earth 2's passive) are unaffected by Atlantean Tactics.
When Injustice 2 Aquaman reverses and doubles a damage over time effect, it will sometimes inherit the original DoT's unique effects. If Catwoman/Arkham Knight's DoTs are reversed, it will also continue to damage Aquaman's opponent even if they are tagged out. On the other hand, when Lobo/Bounty Hunter's burn is reversed, Aquaman's opponent will not be snared.
Previously, if the last hit of Aquaman's special attacks KO's an opponent, the next opponent will received the reversed DOT instead. This cannot be done anymore as the reversal happens at the very beginning of the special attack's usage.
Interactions
Please note that battles are highly situational: this section only mentions cards that have mechanics that, for any reason, are particularly effective with/against, or particularly ineffective against Aquaman. Having a card that "counters" Aquaman does not mean it is always a good choice.
Good With
Good Against
Countered By
Abilities
Here are Aquaman's abilities.
| Ability | Classification | Description | Usage |
| --- | --- | --- | --- |
| Trident Toss | First Special | Aquaman launches his Trident. BLEED: Deals DAMAGE-OVER-TIME. | Target |
| The Oceanic Depths | Second Special | Aquaman unleashes a frontal attack using his trident and finishes with a sneaky strike from below. | Rapid Swipe (5% per swipe), Rapid Tap (bar) |
| Atlantean Rage | Super Move | Call forth the mightiest predator of the oceans. UNBLOCKABLE. | Tap |
Support Cards and Gear
Here are Aquaman's support cards and gear.
Card
Classification
Description
Cost
Throne of Atlantis
Health
10% HEALTH BOOST.
3,000
Poseidon's Trident
Damage
10% DAMAGE BOOST.
4,000
Armies of Atlantis
Energy
10% ENERGY REGENERATION.
5,000
Atlantean Polearm (Trident Of Poseidon)
Gear

8% - 18% Damage boost to Special 2

[Aquaman] 100% AREA EFFECT:opponent's team takes 15% - 25% damage from Special 1

[EVOLVED] 15% - 25% stun chance on Special 2

25,000 - 1,000,000 (upgrading)
Stats
These stats are the final damage and health levels at level 50, per Elite rank, with ALL support cards, and without any augmentations. With the 2.13 update, Elite 8, 9, and 10 have been added. The Elite 10 damage and health levels are for level 60 characters.
| Tier | Damage | Health |
| --- | --- | --- |
| Normal | 10,962 | 20,412 |
| Elite I | 16,443 | 30,618 |
| Elite II | 21,924 | 40,824 |
| Elite III | 32,886 | 61,236 |
| Elite IV | 38,367 | 73,483 |
| Elite V | 43,843 | 81,648 |
| Elite VI | 49,329 | 91,854 |
| Elite VII | 54,810 | 102,060 |
| Elite VIII | 60,291 | 112,266 |
| Elite IX | 65,772 | 122,472 |
| Elite X |  ?? | 132,678 |
Trivia