Bonus Missions are special daily tasks that can be completed in Online Battles for additional Power Credits and Battle Rating.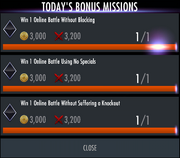 There are 12 types of bonus missions:
Earn 15k Battle Rating.
Earn 5k Battle Rating using X, Y and Z.
Knock out 7 characters in online battles.
Win 10 Online Battles.
Win 7 consecutive Online Battles.
Complete a Standard (3 Match) Battle.
Complete an Epic (5 Match) Battle.
Win 3 Online Battles with at least one X character on your team.
Win 1 Online Battle without blocking.
Win 1 Online Battle without suffering a knockout.
Win 1 Online Battle using no specials.
Win 1 Online Battle using a team of X characters.
3 missions would appear at once. You can skip one daily, which gives you a different bonus mission without penalty.
Battle Rating gained through bonus missions will count towards earn battle rating missions.
Aquaman/Prime's Atlantean Hero summoned with his special 2 and The Joker/Unhinged Suicide Squad 's controlled character will count towards knock out 7 characters bonus missions.
The "without blocking" mission is only not completed when you block an attack. It is possible to use block, but release it before you block a hit and you can still complete it.
_Previously, Super Moves do not count as a special, and can be used to complete the no specials mission. This has been changed and is no longer possible.
_Quitting a losing match can be done to avoid breaking the streak on the win 7 consecutive battles mission.