The Raven challenge is the third one of Update 2.2, and the guide will cover the Nightmare difficulty of the challenge. She is quite worthy of getting due to her wonderful and deadly passive.
Raven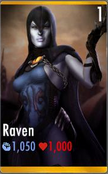 | Rarity | Base Stats | Price | Unlock |
| --- | --- | --- | --- |
| Gold | 1050/1000 | 231,000 | Unlocked through challenge |
Demonic Rage: At 20% health, twice per match Raven swaps HEALTH with her opponent.
Raven's passive can save many players in the nick of time due to her passive which essentially allows her to live up to three times a game unless she takes a blow which will kill her. Add this and her high damage stat which rivals Darkseid, and you have a brutal combatant worthy of taking punishment.
Basic Knowledge
Raven Prime's challenge has 189 total battles, 63 per difficulty. Four rounds have 12 battles, and the last round has 15 battles, with the challenge character appearing either as a mini-boss, boss, or souped up boss. It will take 189 Challenge Credits to do so. Every battle can be fought or skipped. If the battle is skipped, it costs Power Credits to do so. This adds a bit of motivation so players don't have to buy their way through. But sometimes, players can't defeat a certain battle, and as such, are forced to skip it. As you progress, battles become tougher, and skip prices become higher as well.
The challenge lasts 17 days from ??. The chart below shows you how much it costs to skip ALL challenges in a round per difficulty. The only one that changes is the final round where you encounter the Challenge character as a boss.
Difficulty
Round 1
Round 2
Round 3
Round 4
Round 5
Standard
64,000
64,000 
120,000 
120,000 
250,000 
Expert
64,000
64,000 
120,000 
120,000 
500,000 
Nightmare
64,000
64,000 
120,000 
120,000 
800,000 
Total
192,000
192,000 
360,000 
360,000 
1,550,000 
Grand Total
2,654,000
Ad blocker interference detected!
Wikia is a free-to-use site that makes money from advertising. We have a modified experience for viewers using ad blockers

Wikia is not accessible if you've made further modifications. Remove the custom ad blocker rule(s) and the page will load as expected.