Darkseid is the first mobile-exclusive character. Darkseid is characterized with very high base stats, but a very slow and vulnerable basic attack combo. He was one of the first characters where the AI could utilize combo-enders.
For Darkseid's full console character biography, click here.
Characters
Edit
General Trivia
Edit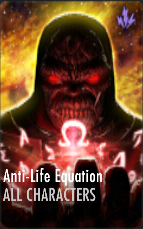 Included Cards
Edit
Ad blocker interference detected!
Wikia is a free-to-use site that makes money from advertising. We have a modified experience for viewers using ad blockers

Wikia is not accessible if you've made further modifications. Remove the custom ad blocker rule(s) and the page will load as expected.