Double Bonus XP
is a special type of Bonus that is only available during special weekends for famous holidays.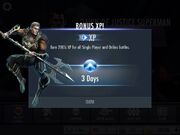 Usually, these can last between 3-4 days; during this Bonus Week, all battles from Standard Battle, Challenge Mode, Online Battle, and Survivor Mode will gain Double the XP earned compared to a regular day for your character.
Also noted, currently, characters that are equipped with the Riddler's Staff will noticeably gain the extra X% of XP as mentioned in its effect, whereas during regular days the gear's effect will not gain any as mentioned.
Ad blocker interference detected!
Wikia is a free-to-use site that makes money from advertising. We have a modified experience for viewers using ad blockers

Wikia is not accessible if you've made further modifications. Remove the custom ad blocker rule(s) and the page will load as expected.