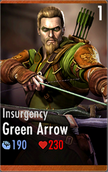 Tactics: Green Arrow and his teammates deal 5% INCREASED DAMAGE on All Attacks.
Insurgency Green Arrow is a helpful team member for a Bronze team, but is primarily used as a support due to his low damage. His passive loses out easily to Lex Luthor/Prime (who has a 15% increase) but the two of them together give a generous 20% increase. However, he is not all bad, as all Green Arrow characters are agile attackers and are able to gain their first Power Drain very quickly.
Interactions
Edit
Please note that battles are highly situational: this section only mentions cards that have mechanics that, for any reason, are particularly effective with/against, or particularly ineffective against Green Arrow. Having a card that "counters" Green Arrow does not mean it is always a good choice.
Good With
Edit
Good Against
Edit
Countered By
Edit
Abilities
Edit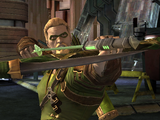 Here are Green Arrow's abilities.
| Ability | Classification | Description | Usage |
| --- | --- | --- | --- |
| Electric Arrow | First Special | Green Arrow fires off an arrow which electrifies its victim. DRAINS OPPONENT'S POWER. | Target |
| Savage Blast | Second Special | A typhoon of arrows is unleashed by Green Arrow. | Target |
| Arsenal Assault | Super Move | Green Arrow uses every type of arrow in his vast arsenal to waylay his opponent. UNBLOCKABLE. | Tap |
Support Cards and Gear
Edit
Here are Green Arrow's support cards and gear.
Card
Classification
Description
Cost
Natas
Health
10% HEALTH BOOST.
3,000
Trick Arrows
Damage
10% DAMAGE BOOST.
4,000
Black Canary
Energy
10% ENERGY REGENERATION.
5,000
Longbow (Customized Military Bow)
Gear

8% - 18% DAMAGE BOOST to Special 2

[Green Arrow] 100% AREA EFFECT: opponent's team takes 10% - 20% damage from Special 2

[EVOLVED] 20% - 30% CRIT chance on Special 1

25,000 - 1,000,000 (upgrading)
These stats are the final damage and health levels at level 50, per Elite rank, with ALL support cards, and without any augmentations. With the 2.13 update, Elite 8, 9, and 10 have been added. The Elite 10 damage and health levels are for level 60 characters.
| Tier | Damage | Health |
| --- | --- | --- |
| Normal | ?? | ?? |
| Elite I | 1,785 | 4,024 |
| Elite II | 2,083 | 4,695 |
| Elite III | 2,380 | 5,365 |
| Elite IV | ?? | ?? |
| Elite V | ?? | ?? |
| Elite VI | ?? | ?? |
| Elite VII | 3,570 | 8,048 |
| Elite VIII | 3,868 | 8,719 |
| Elite IX | 4,166 | 9,390 |
| Elite X | ?? | ?? |