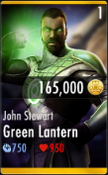 Emergency Barrier: When Green Lantern or a teammate reaches 20% Health, a barrier appears making that character invulnerable for 4 seconds. This can occur once per character, per match.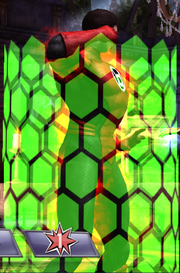 Green Lantern John Stewart is a life saver with his passive, shielding characters at critical health so they can get a few free uninterrupted blows and/or allow them to use healing gear.
His passive grants Invulnerability, a very rare form of status effect only shared by the Militarized Batmobile and Superman/Injustice 2's passive, which negates most damage (basic attacks, special attacks AND even Supermove) and status effects on the affected character, including flinching, allowing you to get unblocked specials much easier. On the other hand, if a character on the team that was using John Stewart's passive, and an opponent that can deal Area Effect (either as according to their passive and by using other gears), that character won't take any damage, but their teammates will take the Area Effect damage as normal.
However, his poor base stats and the short lived nature of his passive (as well as the fact that it could be bypassed entirely by high hits) makes him rather unpopular.
Red Lantern Hal Jordan's release caused him to briefly resurface, as Emergency Barrier used to be able to shield Hal from his self-damage and allows him to use at least one more special or super. However, this was soon removed and now his passive does not affect Hal's self-damage.
If the first hit (the stun) of Batgirl's Art of Deception triggers his invulnerability, the character will continue to be stunned even when invulnerable.
Interactions
Edit
Please note that battles are highly situational: this section only mentions cards that have mechanics that, for any reason, are particularly effective with/against, or particularly ineffective against Green Lantern. Having a card that "counters" Green Lantern does not mean it is always a good choice.
Good against:
Edit
Deathstroke/Arkham Origins: Although punishing, both of his specials are multi-hit, allowing Green Lantern to relatively easily negate large amounts of damage.
Good with
Edit
Countered by
Edit
Abilities
Edit
Here are Green Lantern's abilities.
| Ability | Classification | Description | Usage |
| --- | --- | --- | --- |
| Turbine Smash | First Special | Green Lantern materializes a jet turbine engine, then slams it into his target. | Rapid tap |
| Parallel Nature | Second Special | Green Lantern uses the power of his ring to unleash a melee ballistic combo. | Swipe,Target |
| Beware My Power | Super Move | Green Lantern unleashes a beatdown through the power of his ring. UNBLOCKABLE. | Tap |
Support Cards and Gear
Edit
Here are Green Lantern's support cards and gear.
Card
Classification
Description
Cost
Guardians
Health
10% HEALTH BOOST.
3,000
Lantern Corps
Damage
10% DAMAGE BOOST.
4,000
Power Battery
Energy
10% ENERGY REGENERATION.
5,000
Green Power Ring (Supercharged Green Power Ring)
Gear

BLOCKING stops X% MORE DAMAGE

[Green Lantern] X% CHANCE to REFLECT Special 2 while blocking

[EVOLVED] DISABLE enemy specials, X% CHANCE on Special 1

25,000 - 1,000,000 (upgrading)
These stats are the final damage and health levels at level 50, per Elite rank, with ALL support cards, and without any augmentations. With the 2.13 update, Elite 8, 9, and 10 have been added. The Elite 10 damage and health levels are for level 60 characters.
| Tier | Damage | Health |
| --- | --- | --- |
| Normal | 6,375 | 13,851 |
| Elite I | 8,813 | 20,160 |
| Elite II | 11,745 | 27,693 |
| Elite III | 17,625 | 41,553 |
| Elite IV | 20,553 | 49,828 |
| Elite V | 23,490 | 55,404 |
| Elite VI | 26,430 | 60,482 |
| Elite VII | 29,362 | 69,255 |
Ad blocker interference detected!
Wikia is a free-to-use site that makes money from advertising. We have a modified experience for viewers using ad blockers

Wikia is not accessible if you've made further modifications. Remove the custom ad blocker rule(s) and the page will load as expected.