Not to be confused with Injustice 2 Premium Pack.
The Injustice 2 Promo Pack was a new pack added in the 2.10 update. Costing only 100 Power Credits, it was available only from the 12th to the 18th of June, and could only be bought once a day. It will give you a small (~ less than 7%) but practically free chance to obtain the new Injustice 2 characters, Superman/Injustice 2 and Aquaman/Injustice 2. As described in the pack, the contents in it are: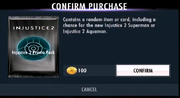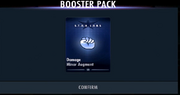 Ad blocker interference detected!
Wikia is a free-to-use site that makes money from advertising. We have a modified experience for viewers using ad blockers

Wikia is not accessible if you've made further modifications. Remove the custom ad blocker rule(s) and the page will load as expected.