"Man of Steel" redirects here. For the character with the Special Attack "Man of Steel", see Superman/Red Son.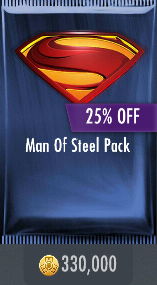 The Man Of Steel Pack contains Superman/Man of Steel and Zod/Man of Steel for 330,000 power credits. Both characters can be bought in the store without any kind of unlock, although it is 25% cheaper to buy the pack than the two characters separately, as stated on the pack.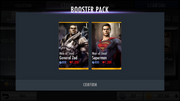 This is the only pack in the store to contain only 2 characters.
Ad blocker interference detected!
Wikia is a free-to-use site that makes money from advertising. We have a modified experience for viewers using ad blockers

Wikia is not accessible if you've made further modifications. Remove the custom ad blocker rule(s) and the page will load as expected.