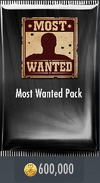 The
Most Wanted Pack
is a rotating
pack
that can be bought in the
store
with 600,000
Power Credits
and contains a random 3 of the following gold
characters
:

Reverse Flash, Martian Manhunter/Prime & Harley Quinn/Animated were previously in this pack, but were removed shortly before the introduction of the 2.15 update despite the description remaining.
It used to be possible to obtain multiple copies of a single character from a single opening this pack. As of now, only no more than one copy of a character can be pulled from this pack.
The drop rate for all characters are estimated to be the same, at 9.09% per slot, or 24.9% chance to get at least one copy of the desired character from a pack.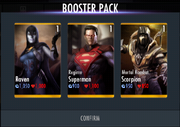 Much of the possible contents of the pack can be obtained from Challenge Booster Packs or Gold Booster Packs.
Trivia