Packs, also known as Booster Packs, can be bought with Power Credits or real money in the Store OR can be obtained if the player completes a certain amount of Battles for a character's Challenge. They can contain either character cards, with or without support cards, along with a possible chance for Upgrades, and/or Gear cards. For some packs, their contents may be fixed or random; on the other hand, some can be permanent or temporary (i.e. does not always appear in the store).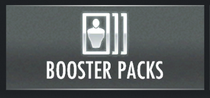 Obtaining a character who first needs to be unlocked in Challenge Mode or a WBID account (or through the Store) can be promoted DIRECTLY with Power Credits. Otherwise, if obtained from most Packs, they cannot be promoted directly.
Permanent packs
Edit
Temporary Packs
Edit
The pack(s) currently in the store are bolded.
Early Access Packs
Edit
Early Access Packs are generally released slightly prior to the character's official release, and retracted around the same time their Challenge Mode expires.
Ad blocker interference detected!
Wikia is a free-to-use site that makes money from advertising. We have a modified experience for viewers using ad blockers

Wikia is not accessible if you've made further modifications. Remove the custom ad blocker rule(s) and the page will load as expected.