The Small Challenge Bundle appears in the store while a challenge is active. It costs 10,000 Power Credits and will grant 3 Challenge Credits.
It is highly recommended that you do not purchase this bundle, as you can obtain 3 challenge credits easily through winning 2~3 single player battles (1 challenge credit earned per 2 energy bar used), which would also allow you to gain additional power credits instead of spending a lot of them.
Both this and the Large Challenge Bundle have been removed in the 2.11 update, as Challenge Credits are no longer needed in order to enter battle in Challenge Mode.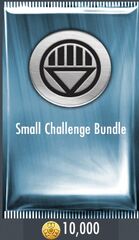 Ad blocker interference detected!
Wikia is a free-to-use site that makes money from advertising. We have a modified experience for viewers using ad blockers

Wikia is not accessible if you've made further modifications. Remove the custom ad blocker rule(s) and the page will load as expected.