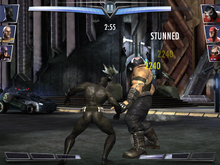 Stun is a common status effect that can prevent affected characters from taking most actions, including the ability to block or tag; it is perhaps the deadliest effect in the game when fully exploited, as it leaves the affected character vulnerable to the full damage of ALL forms of  attacks, such as hits with critical attacks, and most importantly the enormous damage bonus from the Cloak of Destiny against stunned opponents.
Mechanics
Edit
There are some relatively intricate mechanics regarding this status effect, as stun always last for a set duration of time (usually 5 seconds) or until an attack or attacks-sequence is completed on the stunned character beforehand. Thus it's more volatile than other effects that tend to last for a set amount of time absent tag-out.
Currently, stuns may occasionally last for an unusually long amount of time, persisting even after multiple basic combos, even if the stun animation has already disappeared.
Stun Chance
Edit
Most stun specials that has a "chance to stun" stuns about 70% of the time if not blocked. Static's Taser Trap and Batgirl/Arkham Knight's Try to Keep Up are exceptions, as they always stun when unblocked, and additionally, the latter's passive gives it a chance to break block.
Most stun effects cannot trigger on blocking characters. A few passives have a chance of unblockable stun, like the aforementioned Batgirl/Arkham Knight, as well as Bane/Luchador (stun chance on tag in). Batman/Blackest Night and Batman/Red Son give their Teams a chance to break block (all attacks and SP1 only respectively), which also give them the chance to perform unblockable stun on their own SP1.
Gear may also have a chance to stun, albeit much lower, up to when max upgraded.
Stun Duration
Edit
As described above, stun always last for ~ 5 seconds or unless an attack or attacks-sequence is completed on the stun character. However, if that attack has the capability to stun, the stun condition can be renewed (for example, if Hawkgirl/Prime is equipped with the Cloak of Destiny, upon tag in, she has a chance to stun due to the gear's effect. Then she can use her SP1 to stun the opponent again).
A light combo or a heavy combo will count as a sequence for the purpose of stun duration. It is not possible, however, to deal Combo Ender on a stunned opponent, with the odd exception of Static.
Characters and Effects That Employ Stun
Edit
Stun chance can be found on different move sets from different characters, on different characters' passives, and on various gear, including the aforementioned Cloak of Destiny. Deadshot is very unique in that he has a small chance to stun on his combo ender, despite the fact that this is not mentioned in his passive. Green Lantern/Jessica Cruz Rebirth also has a chance to stun on her combo ender, but unlike Deadshot her stun chance is unblockable.
Characters With Built-in Stun on Special Attacks
Edit
When a stun is found built-in on a character's special attack, there is usually an associated 50% damage penalty, meaning that if the move an SP1 does 10%~20% of the character's damage stat (prior to upgrades) as a base, and, if an SP2, 30%~60%.
Characters With Built-in Stun on Combo-ender
Edit
Green Lantern/Jessica Cruz Rebirth, estimated at ~30% chance
Deadshot/Suicide Squad, estimated at ~10% chance.
Characters With Passives that Can/Will Stun
Edit
Gears That Grant Stun Chance
Edit
Stun on Tag In
Edit
Stun would be a useful effect even if not there were no effects that referenced it, as it can set up unblocked special attacks for great damage, especially with teamwork between characters. With the Cloak of Destiny, however, a tagged-out character with enough readied power has the chance to set-up a devastating blow just tagging in.
Gear and Abilities that Offensively Reference Stun
Edit
Defending Against Stun
Edit
As stun is one of the deadliest status effects in the game and inflicting it at a timely moment can be absolutely pivotal in a battle, the ability to prepare for it and to handle it when it occurs can be paramount.
Immunity against Stun
Edit
Green Lantern/Red Son: Green Lantern provides crit and stun immunity to every Red Son member of his team, in addition to reducing all special damage they take by 20%. However, if unblocked Batgirls' SP1 intra-special stun will still work.
Batman/Beyond: passives provide immunity to stun, including stuns caused by the passives of Martian Manhunter/Prime and Luchador Bane. Previously these stuns would ignore his immunity, but this was fixed in an update.
Other Defenses
Edit
There are a few informal defenses against stun if its mechanics or how it is employed are understood. Always blocking at the right moment and preventing the opponent from tagging in with a character on tag-in are the two ultimate tricks that will prevent Stun in nearly all cases.
It is possible for a freeze special to apply stun through stun gear; there seem to be two outcomes when this happens: both "Stunned" and "Frozen" appears, and the freeze animation is played, or only "Stunned" appears and the stun animation is played. The bonus damage only applies in the latter case.