The Survivor Pack contains Scorpion/Mortal Kombat X, Scorpion/Mortal Kombat, and Lobo/Bounty Hunter. It was a player's choice pack, voted during December 15, 2015 through December 18, 2015.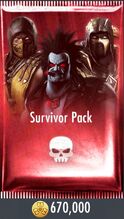 The contents of the Survivor Pack are determined by voting between four pre-made teams on Facebook. Netherrealm received considerable player criticism due to votes being accounted for as likes or shares, and the inherent bias between the two methods.
As of the 2.9 update, Netherrealm has decided to put the other 3 teams in the game as well, each with the same name as this pack, but with different prices.
Ad blocker interference detected!
Wikia is a free-to-use site that makes money from advertising. We have a modified experience for viewers using ad blockers

Wikia is not accessible if you've made further modifications. Remove the custom ad blocker rule(s) and the page will load as expected.