Bullet Time: Once per match, when Flash reaches 30% HEALTH, his opponent's SPECIALS are disabled and TIME SLOWS for 7 seconds.
Elseworld Flash is a rarely seen card. One of the earlier challenges, he has the lowest total base stats of any gold character (tied with Black Adam/Regime), and a one-use passive. Despite this, being a Flash card makes him decent in interrupting opponents and block breaking with his basic attacks.
| Basic combo | Damage pattern (% of damage stat) | Total (including Combo Ender) |
| --- | --- | --- |
| Light (Combo Ender) | 2% - 2% - 2% - (3%) | 9% |
| Heavy | 4% - 4% - 4% | 12% |
His passive can be helpful in case of emergencies. It will interrupt any enemy specials, AI or player, prevent the opponent from blocking or tagging, as well as disabling special(s) from being activated. It allows Flash to get three to four basic combos for some free blows as the normal rules of targeting are lifted - he can use a basic combo again immediately after finishing the first, and they will hit the opponent who is falling towards the ground. However, using a special will end Bullet Time prematurely, giving your opponent a chance to block.
It is possible to trigger Bullet Time while blocking due to reflect damage. In this case the block will be disabled, allowing Elseworld Flash to hit the previously blocking character with impunity. Bullet Time will not trigger if Flash was hit by a super move and survives. Solomon Grundy/Earth 2's Death Aura will also not trigger Bullet Time, until he hits The Flash physically.
The damage over time effect on The Ibistick, LexCorp Helmet Armor V2 and League of Assassins Adept Blade would be applied even if the special was interrupted.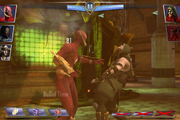 Interactions
Edit
Please note that battles are highly situational: this section only mentions cards that have mechanics that, for any reason, are particularly effective with/against, or particularly ineffective against The Flash. Having a card that "counters" The Flash does not mean it is always a good choice.
Good With
Edit
Good Against
Edit
Countered By
Edit
Abilities
Edit
Here are Flash's abilities.
| Ability | Classification | Description | Usage |
| --- | --- | --- | --- |
| Lightning Kick | First Special | The Flash deals a series of ultra quick kicks, temporarily increasing his attack speed (by 15%). | Rapid Swipe |
| Fastest Man Alive | Second Special | The Flash attacks multiple times in the blink of an eye. | Quick Tap |
| Speed Zone | Super Move | The Flash delivers super-speed punches on his opponent. UNBLOCKABLE. | Tap |
Support Cards and Gear
Edit
Here are The Flash's support cards and gear.
Card
Classification
Description
Cost
Altered Perception
Health
10% HEALTH BOOST.
3,000
Lightning Quick
Damage
10% DAMAGE BOOST.
4,000
Speed Force
Energy
10% ENERGY REGENERATION.
5,000
Hyperspeed Suit (Hyperspeed Plated Suit)
Gear

8% - 18% POWER GENERATION increase

[The Flash] 15% - 25% UNBLOCKABLE chance on basic attacks

[EVOLVED] 20% - 30% CRIT chance on Special 1

25,000 - 1,000,000 (upgrading)
These stats are the final damage and health levels at level 50, per Elite rank, with ALL support cards, and without any augmentations. With the 2.13 update, Elite 8, 9, and 10 have been added. The Elite 10 damage and health levels are for level 60 characters.
| Tier | Damage | Health |
| --- | --- | --- |
| Normal | 6,375 | 10,935 |
| Elite I | 8,813 | 15,915 |
| Elite II | 11,745 | 21,863 |
| Elite III | 17,618 | 32,805 |
| Elite IV | 20,554 | 39,366 |
| Elite V | 23,490 | 43,740 |
| Elite VI | 26,430 | 47,750 |
| Elite VII | 29,363 | 54,675 |