Team Flash: The Flash and his teammates attack 15% FASTER.

BOSSES ARE PROTECTED.
| Basic combo | Damage pattern (% of damage stat) | Total (including Combo Ender) |
| --- | --- | --- |
| Light (Combo Ender) | 2% - 2% - 2% - (3%) | 9% |
| Heavy | 4% - 4% - 4% | 12% |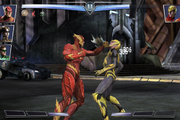 Regime Flash is one of the coveted Silver cards due to his high damage stat for a Silver card and a beneficial speed buff to the whole team, allowing players to attack much quicker. Being able to strike first gives them the upper hand of getting power quicker and access to special attacks faster. His low heath is compensated by his lightning-quick attacks and great damage, thus making him more of a glass cannon. He is the only character to give a team-wide speed buff other than Deathstroke/Red Son.
Interactions
Edit
Please note that battles are highly situational: this section only mentions cards that have mechanics that, for any reason, are particularly effective with/against, or particularly ineffective against The Flash. Having a card that "counters" The Flash does not mean it is always a good choice.
Good With
Edit
Good Against
Edit
Countered By
Edit
Abilities
Edit
Here are Flash's abilities.
| Ability | Classification | Description | Usage |
| --- | --- | --- | --- |
| Lightning Kick | First Special | The Flash deals a series of ultra quick kicks, temporarily increasing his attack speed (by 15%). | Rapid Swipe |
| Power Kick | Second Special | The Flash puts a pound of pain into this powerful kick. | Quick tap |
| Speed Zone | Super Move | The Flash delivers super-speed punches on his opponent. UNBLOCKABLE. | Tap |
Support Cards and Gear
Edit
Here are Flash's support cards and gear.
Card
Classification
Description
Cost
Altered Perception
Health
10% HEALTH BOOST.
3,000
Lightning Quick
Damage
10% DAMAGE BOOST.
4,000
Speed Force
Energy
10% ENERGY REGENERATION.
5,000
Hyperspeed Suit (Hyperspeed Plated Suit)
Gear

X% POWER GENERATION increase

[Flash] X% UNBLOCKABLE chance on basic attacks

[EVOLVED] X% CRIT chance on Special 1

25,000 - 1,000,000 (upgrading)
These stats are the final damage and health levels at level 50, per Elite rank, with ALL support cards, and without any augmentations. With the 2.13 update, Elite 8, 9, and 10 have been added. The Elite 10 damage and health levels are for level 60 characters.
| Tier | Damage | Health |
| --- | --- | --- |
| Normal | 3,758 | 5,540 |
| Elite I | 5,261 | 7,752 |
| Elite II | 6,424 | 8,128 |
| Elite III | 7,227 | 9,950 |
| Elite IV | 9,772 | 12,156 |
| Elite V | 11,275 | 16,184 |
| Elite VI | 12,779 | 18,342 |
| Elite VII | 13,541 | 20,721 |
| Elite VIII | ??? | ??? |
| Elite IX | 17,289 | 24,815 |