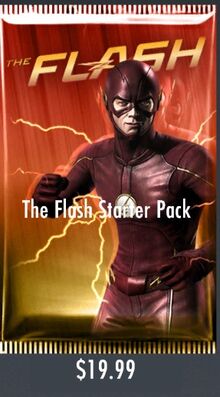 The Flash Starter Pack contains The Flash/Metahuman, along with 135,000 Power Credits, and can only be purchased once for $19.99.
This pack started the "trend" for granting early access to Challenge characters (though he's the only Online Battle -exclusive season-rewards character) in the future update.
When the Black Adam/Kahndaq challenge repeat aired, this pack was on sale by 25% for only $14.99, possibly in conjunction with the Most Wanted Pack sale.

Additionally, celebrating The Flash season 3, the pack has once again gone on sale for $14.99.
Ad blocker interference detected!
Wikia is a free-to-use site that makes money from advertising. We have a modified experience for viewers using ad blockers

Wikia is not accessible if you've made further modifications. Remove the custom ad blocker rule(s) and the page will load as expected.