The Wonder Woman 75th Anniversary Pack is a new pack introduced in the 2.12 Update. It contains Wonder Woman/Prime, Wonder Woman/Regime, Wonder Woman/600, Wonder Woman/Dawn of Justice, her Support cards, and her Sword and Shield gear for 750,000 Power Credits.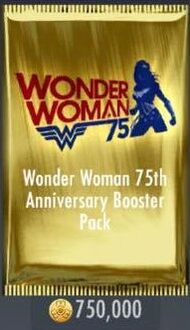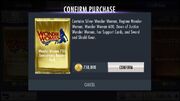 Both this and the Arkham Pack/Arkham Asylum Pack are the most expensive packs in the game!
It was first introduced (as said) on Woman Woman's anniversary day, October 21st of 2016, and is only available until October 27th.
This pack offers the most guaranteed characters out of all other packs in the game.
During a repeat introduction, it was at 50% off; at only 375,000 credits, Dawn of Justice Wonder Woman alone (395,000) is worth more than its price.