The Wonder Woman 75th Anniversary Pack is a new pack introduced in the 2.12 Update. It contains Wonder Woman/Prime, Wonder Woman/Regime, Wonder Woman/600, Wonder Woman/Dawn of Justice, her Support cards, and her Sword and Shield gear for 750,000 Power Credits.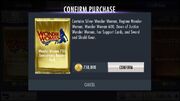 Both this and the Arkham Pack/Arkham Asylum Pack are the most expensive packs in the game!
It was first introduced (as said) on Woman Woman's aniversary day, October 21st of 2016, and is only available until October 27th.
This pack offers the most guaranteed characters out of all other packs in the game.
Ad blocker interference detected!
Wikia is a free-to-use site that makes money from advertising. We have a modified experience for viewers using ad blockers

Wikia is not accessible if you've made further modifications. Remove the custom ad blocker rule(s) and the page will load as expected.